"Out. Blow out. Don't suck it, blow out".
Woods was confused but cooperative when he was taken into custody, on suspicion of DUI, according to a probable cause affidavit.
He is barefoot, swaying and struggles to take a breathalyser test. Finally the machine registers his breath.
"You can't get him on a sleeping pill", said Weinstein, now a defense lawyer in Miami.
CNN also reports that he recently underwent back surgery, which could explain the high dosage of drugs.
At another point, the tape showed Woods bending down to tie his shoelace as one of the police officers told him, "It's your other shoe that's untied, man".
The deputy assures him that the "bracelets" will come off soon before Woods heads over to a chair and then slumps over.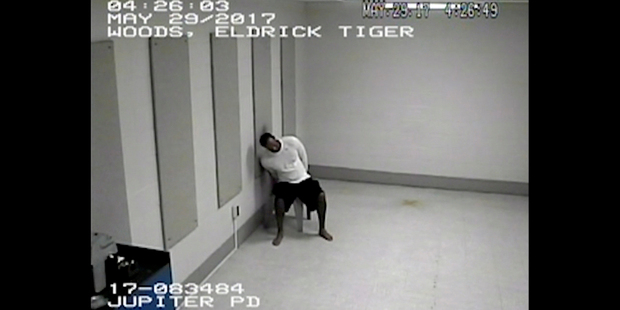 While being held in the jail, Woods complained about the "bracelets" around his wrists, which were actually handcuffs.
. Woods struggled to walk in a straight line, had a hard time following instructions and slurred his speech several times.
"You're not following the light at all".
In a two-minute video, posted to his Twitter account, Kaymer said: 'Obviously a lot of people know what happened to Tiger Woods the last few days, few weeks.
The 41-year-old professional golfer arrived at the jail at 4:22 a.m. Police also released photos of his vehicle that showed both tires flat with minor damage around the bumpers.
Golf icon Tiger Woods managed to get a chuckle out of one of the officers booking him for arrest earlier this week, when he joked about his thinning hairline during questioning.
"They have to be very measured in terms of their response to their relation with him", said David Carter, professor of sports business at the University of Southern California's Marshal School of Business. Woods also released a statement that said he was not drinking and driving.
ANC denies party talks to oust Zuma
It also comes after a Cosatu May Day rally in Bloemfontein was called off after Zuma - who was the keynote speaker - was booed. Ntshalintshali said the committee did not discuss Dlamini's attendance at Zuma's birthday celebration.